Executive Search
Although in-house human resources departments can perform executive search, employing the services of Global Associates is ultimately more expedient, efficient and effective. We provide strict confidentiality, an extensive network of contacts, objectivity in candidate evaluation, and negotiation experience and expertise.

We observe strict confidentiality.
Organizations with an opening in their executive ranks are vulnerable. Whether for an existing position to be filled, or a position newly created by downsizing or market opportunity, the hiring process must be strictly confidential. Confidentiality can keep competitors from being tipped off to management shake-ups, new product and market initiatives, and can protect against employee, stockholder, and supplier apprehension. Global Associates' consultants value the highly sensitive information they become privy to during the search process. We are acutely aware and respectful of our client's vulnerability

We can tap into a global network of contacts.
Top-notch executive talent is a scarce commodity today. The limited contacts of in-house human resource departments can't compare with the wide net cast by Global Associates' network. The best candidates are already employed; many will deal only with recruiters. They appreciate the worth of third party representation, confidentiality and professional mediation. Recruiting superior candidates is intricate and best performed by discreet professional – Global Associates.

We bring objectivity and feedback to management.
Executive search is a time-consuming, sensitive process. Global Associates can help our clients evaluate their expectations, review relevant organization structure and reporting, and define a realistic profile and compensation package for the open position. Our consultants provide objective feedback on the candidates and advice to our client. As experts in research and reference checking, we can glean significant information from even reluctant reference-givers.

Our Unique 26-Stage Process
Once Global Associates has been selected, our 26-stage process of professional executive search begins. Each step is managed by our highly experienced consultants in partnership with our client team; successful results require diligence during each phase of the process. The 26-stage processes are: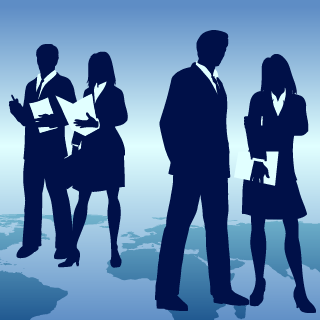 1. Develop an appropriate "Job Specification" with client
2. Make a recruiting plan
3. Prepare a target list
4. Name gathering from the target list
5. Contacting the potential candidates
6. Qualify the potential candidates
7. Present the candidates to clients
8. Set up first interviews
9. Prepare the candidates for the first interviews
10. Get the client to address the candidates' needs
11. Debrief the candidates from the first interviews
12. Debrief the client from the first interviews
13. Set up the second interviews
14. Check references
15. Prepare the candidates for second interviews
16. Prepare the client for second interviews
17. Confirm the second interviews with the candidates and client
18. Debrief candidate "closing"
19. Debrief client "closing"
20. Closing and negotiating
21. Monitor offer, acceptance and starting date
22. Resignation preparation for successful candidate
23. Resignation debrief for successful candidate
24. Stay in contact with the successful candidate
25. Confirm that the successful candidate has started
26. Stay in contact with client and successful candidate

Global Associates' executive search process begins with extensive evaluation of our client need. We work closely with our client to arrive at a thorough understanding of the company, its culture and organization, and the specifications of the position to be filled. Job specifications include title, department definition, reporting structure, detailed job responsibilities, experience and qualifications the vacancy is calling for, and details of compensation (this often includes our recommendation according to the market conditions).

Once prepared, a draft of the job specification is submitted in writing to our client team for approval. It is imperative that the job specification reflects a clear understanding and agreement between the client and our consultant before proceeding.

When the job specification is finalized, the intensive search phase of the search commences. We start with an all-inclusive recruitment plan with a comprehensive target list, with reference to an extensive industry research and networking. Based on research well underway, we contact prospective candidates by telephone and begin screening interested and promising candidates. Personal interview ensue in parallel with thorough reference checking activities.

Our consultants regularly report their progress and, at some agreed-upon point, present a strong candidate pool to our clients. Client interviews are arranged with, normally, with the best two or three prospects. Our consultants will prepare the client and the candidates prior to the interviews and may attend the interviews if appropriate.
After the successful candidate has agreed to accept the offer – and when candidate and client have agreed to acceptable terms – most executive firms will consider the dynamic aspect of the search effort has completed. Global Associates go one step further – to monitor the resignation process of the successful candidate.

We find it particular useful here as counter offers from the existing employers will normally come into picture at this stage for good candidates. A tactful monitoring of the resignation process will minimize the risk of the successful candidate not reporting duty, and all parties concern need to re-start the search process again.